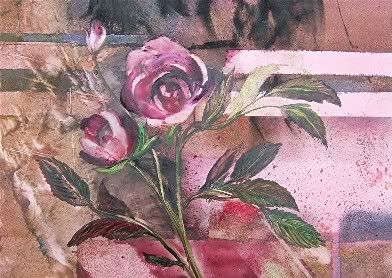 This painting is on Yupo, this is a synthetic plastic type paper used for printing. I painted it the same way I would paint on paper and it is Archival. The only difference is that it will have fixative on it. This is because the plastic does not absorb the paint and thus allows it only to sit on the surface. The fixative prevents damage from moisture. This is 9 by 12 (inches) and can be matted and framed in a large 16 by 20 frame or a smaller 11 by 14 frame.
This is for sale for $250.00
I started out abstract on this piece but knew it needed a realistic image to really make it work. Hope you like it!